The education industry has always been continually evolving to meet the needs of the students, society, and overall global culture. Technology and economics have always been two of the driving forces behind changes in educational standards.
Over the past decade, the English as a Second Language industry has experienced an extraordinary boom due to developments in technology and economic factors. Parents are discovering quickly, for their children and themselves to succeed in the world of global business, they must learn English, and they must learn it now.
The History of ESL in America
ELLs were historically driven to learn the language to seek out better economic opportunities in the Western world, specifically the pursuit of the elusive "American Dream." English proficiency, however, was not a necessity for immigrants until the Naturalization Act was passed requiring all aliens applying for citizenship to learn English.
Other factors including English-only learning in schools, tactics ESL educators still use in modern classrooms, as well as "No Child Left Behind," which had a variety of pros and cons. The teaching methods used in the ESL classrooms did go through several phases before becoming what they are today.
During WWII, the United States placed emphasis on the importance of learning foreign languages after several decades of relative fear of speakers of other languages.
So, during the war officials were able to recognize this fear was irrational leading to a greater emphasis on ESL education back in America. Linguists and researchers spent a lot of time producing better curriculum and understanding how ELs can learn more effectively through better teaching methods.
Since the conclusion of WWII and the increase in linguistic research, the government has showered the ESL industry with support in the form of better programs for public schools and funding for educational initiatives for adult learners and children. Many researchers say this response by the American government lead to the booming industry.
The State of ESL Today
These days, despite the pitfalls of the ESL industry, billions of people around the globe are brought together by their educators through the gift of communication. Countless certification programs geared toward training the best ESL teachers for an exciting career filled with travel and a variety of cultural learning.
A global community of ESL speakers and teachers has opened up through the natural, but sometimes forcible, spread of English through business, art, technology, and other aspects of human life. Being a trained ESL teacher these days is a guarantee of consistent employment in almost any nation.
ESL took about a century to blossom into the thriving industry it is today. However, what is moving the industry forward now?
What's Propelling Market Growth?
The current market for ESL is enormous. So huge that it's hard to comprehend how it could grow even more, but that's what analysts are predicting will happen over the next 5-10 years.
Several factors play into why ESL market growth is ballooning, but here are a few of the most important determinants:
1. An important first note in this segment is that governments are leading the charge in creating better ESL programs for their countries.
This is because nations who have more students with English skills have more stable and thriving economies. Statistics like this mean that governments have an incentive to create better ESL programs in state-run schools.
The economic gains of a country are now almost entirely dependent upon their citizens gaining and maintaining sufficient skills in English. Why do you ask? That brings us to our next point.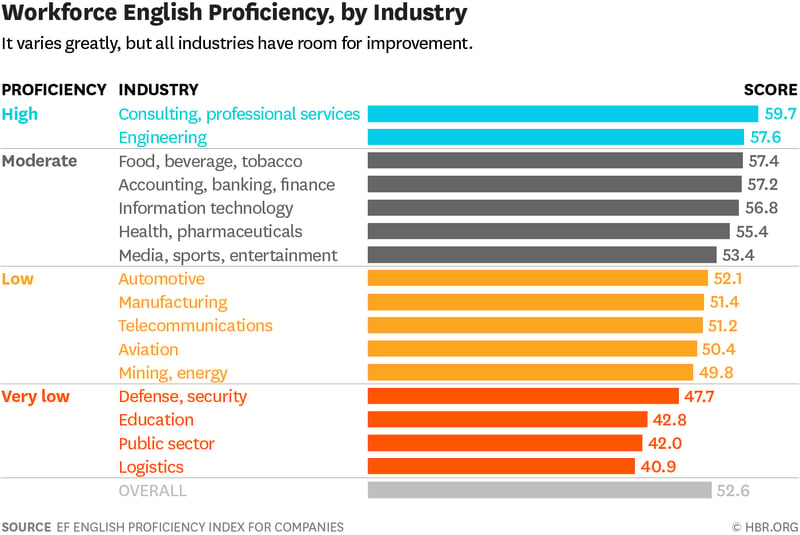 2. English is the language of global business.
This is the most important driving force of the ESL industry today. Billions (yes, billions) of people worldwide are learning English, many from a very young age, out of economic necessity. English began as the language of international trade, because of the British Empire, and is now a gateway to better economic and social opportunities.
However, it's not just finance and marketing companies that require English fluency, even the field of aviation has considered English as their standard communication language since 2001. The international business world now sites fluency in English as a necessity, not just a plus, when hiring and recruiting new talent.
3. The ESL industry rose to a value of over 45 billion US dollars in 2018 and is set to rise to 56.2 billion by 2021.
These numbers show us that the industry is not just a trend. English as a second language statistics prove that it has rapidly become the fastest spreading language in human history, mostly because of the reasons listed above.
Due to this, the ESL industry and it's successes or failures largely determine the movement of the global economy.
4. The rising billions.
This is everyone's favorite point when discussing the development and the future success of the ESL industry. Essentially, the rising billions are the people in developing nations who are currently new or will be new internet users. These users are from low to medium income nations, but the growth is mostly attributed to China and India due to the enormity of their populations.
These billions of new internet users are important because English is not only the language of global business, but it is also the unofficial language of the internet. Over half of the net is in English, meaning the new users will have to attain English skills to make full use of information that can be found there.
The ESL industry has a perfect storm of forces spinning in its favor right now. The English language effectively controls information technology and the global economy. While this is increasingly stressful and divisive for some individuals without proper resources, it gives educators a clear direction for effectively impacting their students' lives. Good programs, hard-working students, and dedicated educators are the future of our world.
Changes Are Coming to the Global Market
Since the ESL industry has become so important, most nations have some form of programming and a wide variety of schools, both online and traditional. Additionally, the number of English learners worldwide is growing. In fact, there are now two times more non-native English speakers than native English speakers, and the majority of those non-native speakers are living in China.
It is important to note, however, that the market is changing in critical ways. Here are several changes which are coming (or are have already arrived) in the world of English as a Second Language:
1. Every year, more ELLs are choosing to have their English lessons through virtual platforms like Your Agora.
Researchers have determined that the online ESL industry will rise to $2.7 billion in the next four years. Every country and age group has numerous versions of online ESL programs targeting specific audiences.
Remember the rising billions from earlier? They are going to keep on joining us on the internet during the coming decades. Technology will continue to disrupt the market, and online platforms are included in that. Online lessons are often even more interactive than traditional lessons.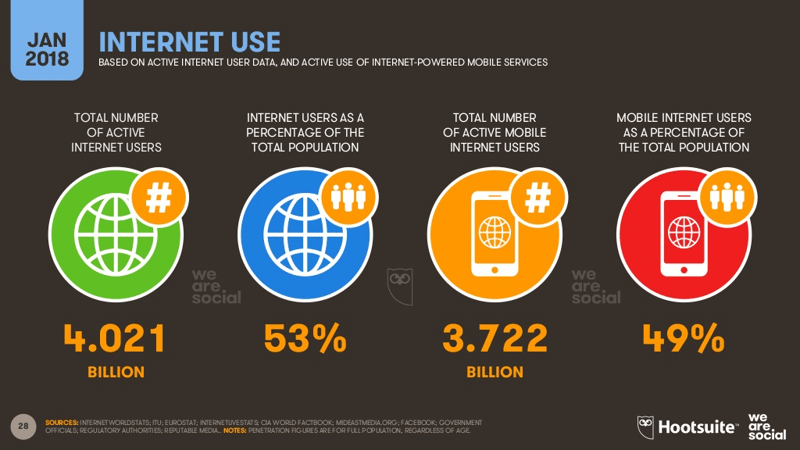 2. The average age of English learners is getting young and younger every year.
This point especially applies to Asian nations like China, South Korea, and Japan. In the private and public sectors, the age of the typical English student has gone from double to single digits.
Some private ESL companies specialize in crafting ESL curriculum for children specifically, and many parents will even hire native English speaking Au Pairs as dual childcare workers and language teachers.
This is important because English lessons are now being developed for all age levels, not just for adults or high school students. This opens up new opportunities in the development, management, and classrooms of ESL schools worldwide.
3. More and more non-native speakers are training to teach English as a Second Language in their home countries.
This has changed the ESL job market exponentially, most notably in South Korea. Many ESL programs from other nations, especially from the U.S., are still attempting to penetrate the Korean educational scene, but the market is becoming overwhelmingly saturated.
In addition, teachers from other nations have trouble finding jobs in South Korea, and when they do, they will not find positions that pay as well or provide comprehensive benefits packages as other countries such as the United Arab Emirates in the Middle East.
Even China, the biggest recruiter of Western teachers, has begun to reduce the amount of "ex-pat" candidates they are hiring. This is, however, mostly due to the tightening of teacher requirements, meaning there are fewer fully qualified candidates.
4. Student-teacher interaction is changing due to technological innovation.
Technology has always been a driving force for change in the classroom, and that's the way it should be. Tech and education should be combined to optimize student and teacher performance.
Today there are smart-boards, video lessons, online supplementary content, and so many more technological assets teachers can utilize in their classes. Integrating tech into your lessons can improve student engagement, can save teachers time on grading and planning, and teaches valuable technological skills.
Changes are coming to the global ESL industry, but, mostly, they are positive, innovative, and will contribute to an already thriving market. It's the job of language educators to stay informed on how the industry is changing and what the future of their careers hold.
As the universal language of the globe, the British Council has projected that there will be over 2 billion English speakers by 2020, only two years from when I'm writing these words in 2018. To put in terms of dollars and cents, the global ESL industry, as mentioned early, is worth over $45 billion in revenue, but the income for the U.S. Education system is only worth $1.3 billion.
What Changes Means for Educators
Due to the rapidly expanding English language market, educators worldwide need to be more aware of new teaching techniques and continuously working toward professional development. This way, they can optimize student learning resulting in higher retention rates for their programs and schools.
If teachers, principals, and school owners become complacent, then they will be left behind by the ESL marketplace in the future. This is because, as mentioned previously in this article, schools are becoming more specialized, and even nations known for recruiting Western teachers, like China, are creating stricter standards. This is true even though the number of vacancies for ESL schools is enormously higher than in the past. For good reason, as technology rapidly is taking over the classroom, the best teaching methods will change even more quickly than they have in the past.
It has always been the case that school systems located in metropolitan areas or in regions with a high immigrant population need more ESL educators. This remains to be true, but within the past several years in the U.S., it has mainly been the Western states that are in need of more ESL programs and qualified teachers.
As mentioned previously, developing nations, referred to as the rising billions, will be the countries who will have new markets to tap into for ESL teachers, as well as many positions to fill.
In summary, ESL educators should consider these points when thinking about the future of their careers:
Professional development

Technological developments

Changing employer expectations
These are just a few of the areas that will be changing in the ESL industry of the future. As the market develops, let's stay focused on providing the best education possible for the English speakers of the future.
---
The future of the ESL market should excite current educators and inspired you to become a life-long learner. Platforms like Your Agora will be invaluable in the future. Join to now to take part in the changing world of online learning and to have exclusive access to a global network of ESL teachers and innovators.