---
As of 2018, the worldwide education industry has seen a 320% increase in the number of international schools across the world. The International School Consultancy reveals that there are more than 8,000 English-centered international schools, with over 4 million students.
As seen by the rapid increase of international schools, the market of ESL instruction is healthy and growing. However, this also means that the level of competition is advancing. To keep up with the competition, many international schools have moved digital marketing to high priority in the strategy agenda.
Thus, an online presence for ESL schools has become a necessity. How does your school stack up to the rest? Having a broad online presence through multiple digital channels makes you more available to your visitors. The importance of this should not be underestimated.
At Your Agora, we would like to help you increase the effectiveness of your online presence. Consider optimizing the following factors - and watch your enrollment numbers grow!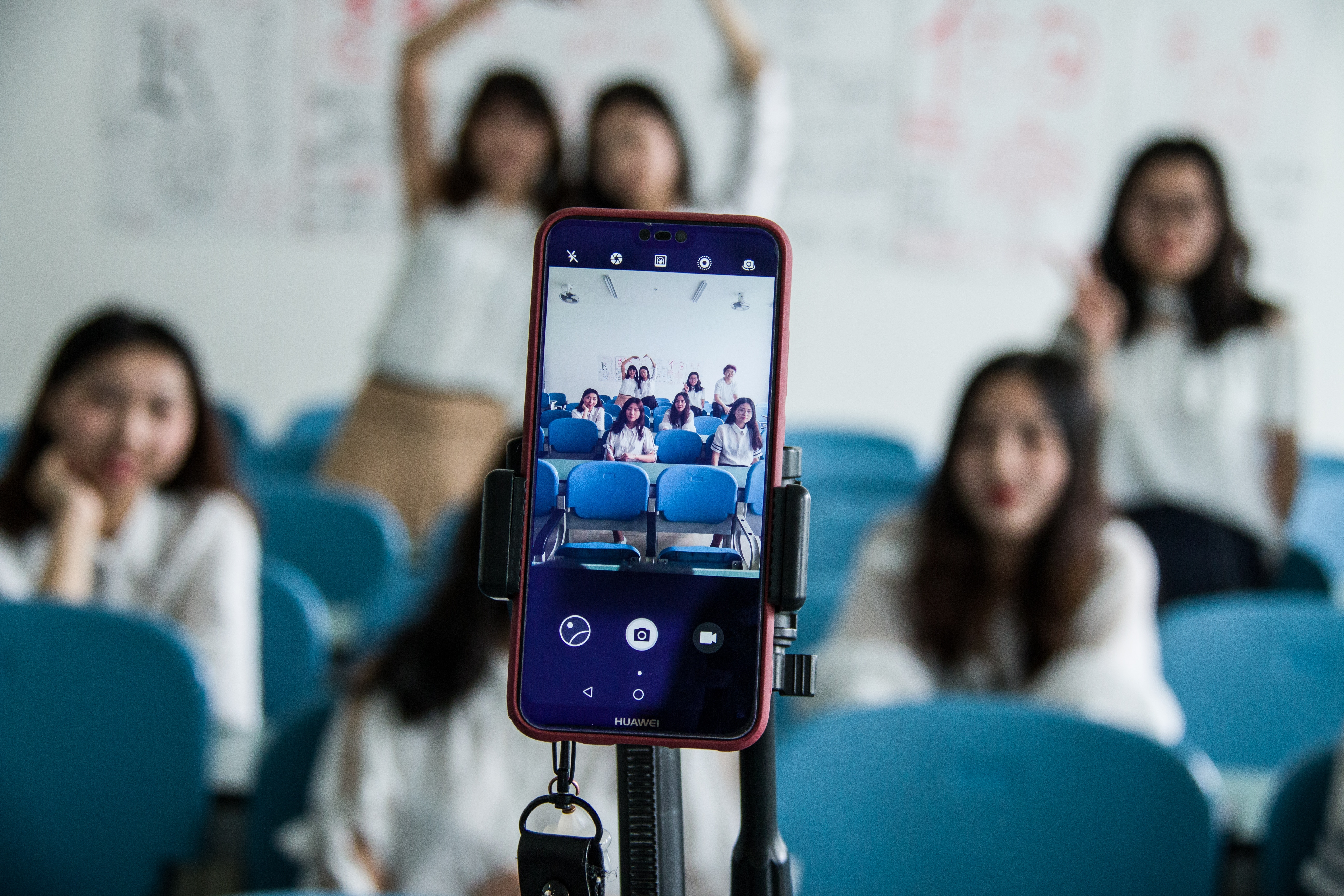 1.
Create a Quality Website

Before you start getting active on social media or investing in online advertising, remember that your website is your most important advertising platform. It is the face of your school's brand - the first impression for your visitors.

If you are beginning from scratch, and wondering how to start an online English teaching business, check out this beginner's guide to building a website. If you already have an established website, there is still a number of factors that may have an effect on its performance.

For a positive impression, the website should be user-friendly, give easy access to information, display your school's value, and differentiate it from other programs. Keep in mind that an appealing, inviting design plays a crucial role in your website's allure.

Parent and student engagement is a high priority for ESL school marketing. Mobile access to your website bolsters engagement with your platform. Mobile enrollment and registration systems promote easy access to quality education through a single app.

Look for a website builder that includes mobile friendly templates. We recommend Google Tool to test if your website is mobile friendly and responsive.

You want your website to have easy ways for a visitor to reach you and for you to capture lead data. This means any form a prospective parent or student fills out should be digital. This may include admissions, open house, various requests and registrations. Simple digital access to registration encourages enrollment, as it is less tidy than making phone calls or visiting for in-person registration.



You can make digital forms through Microsoft Word by following

this guide.




Create a website that is easy to update. You want it to have the latest information, as well as stay up-to-date with software. If you're considering using a new website platform or content management system (CMS), review the live demo of the software before making your selection. Make sure you and/or your staff know how to easily navigate through the administrative interface and make the necessary changes.

You don't have to be an IT expert to manage your website. When you go through the website building process, record the steps of the process that will be easy for you or for your staff to follow.

Follow this guide for beginners for keeping your website up-to-date and free of bugs.

2. Social Media for School Administrators

The ESL student and parent community is already on social media —it's past time for you get involved. For example, the vast majority of the US demographic is using social media on a daily basis:
Studies show that 74% of American adults use social media networking sites.
For students, the number is even higher: 95% of all teens 12-17 are online, and 81% of those use social media.
Instead of telling people about your school, use social media to show them. Your students and their parents are using Facebook, Twitter, Pinterest, Instagram, Blogging, and LinkedIn. Utilize these platforms to communicate with your target demographic and increase enrollment.
You can manage all of your social media pages through Hootsuite!
Make sure that your social media pages are doing the following, to gather attention to the school and increase engagement:
Disclose the school's goals and aspirations
Inform about events and extra-curricular activities
Answer frequent questions
Promote relationships with the ESL community
Discuss ideas and confront issues
Celebrate achievements of the school and its students
Communicate with students and parents directly
Check out Facebook's ESL communities, LinkedIn's ESL Professionals group, and Reddit's ESL subreddits to connect with other ESL professionals and administrators, to network and to see the kind of content the groups are sharing.
3. Increase Your Web Presence on Google: SEO
SEO stands for search engine optimization. It's the process of making your school's website and all its pages easier to find on search engine results pages (SERPs). Your school, along with other organizations and businesses, will rank for a keyword—let's say "online TEFL certificate." Successful SEO aims to make your site rank as high as possible (at least the first page of the SERPs) for said keyword.
Make sure to avoid common SEO tactics that have been disproved:
Keyword Stuffing: An excessive use of keywords on your website, especially in the blog, will ruin the readability of your content. While keywords are important, they should not disturb the user experience.
Ads: Avoid having too many ads on your website. While it may be tempting for the sake of revenue, ads are often intrusive to the visitor and ruin the user experience.
Buying Links: Backlinks that are not relevant to your content are pointless and may hurt your rankings. Wasting money on random links just to get a backlink will not be helpful to your SEO goals.
Use the Google Keyword Tool to find out what people are searching for. Long-tail keywords (long phrases) are easier to land in rankings. For example, keyword esl school will be more difficult to capture than esl school online for adults.
Focus on localized search terms. Prospective students often already have an idea of where they want to complete their studies. It can also help ensure that you reach your intended target audience for student recruitment, rather than attracting students in the wrong locations.
Be specific, provide valuable content, and watch your enrollment grow!
4. Online Advertisement
If you are looking to increase admissions, recruitment and brand recognition, investing in Pay-Per-Click Advertising (PPC) may be beneficial to your school.
Getting started in PPC is more simple than one might think. The best way to start is to set up a Google AdWords account and include the search terms are best suited for your campaign. You can attract relevant audiences by selecting keywords that are most relevant to your school. The people who will see your PPC ads are those specifically searching for what your school has to offer. With PPC ads, pay only when someone physically clicks on your advertisement. Avoid upfront costs for your school - only pay for potential new enrollment that has at least some interest in your program.
Don't forget - make your school stand out! Does it offer world-class teachers from all over the world? Do you utilize an online platform that gives easy access to assignments, schedules, and grades all in one place? Show the best side of your program - and you will grow your enrollment!
5. ESL Blogging
A blog gives you the opportunity to create SEO-optimized content around specific keywords in the hope of improving your ranking on search engines. You already have a specific niche, the ESL industry, which gives you a focus audience whose interests you have already grasped.
For example, if you're working on behalf of a British school in Thailand, you may want to write an article about "Finding a British school in Southeast Asia," for example. Or, try sharing teaching Business English lesson plans to attract native English-speaking teachers. The main goal is to write blog content around keywords that your target demographic will be searching for on Google.
Check out these popular ESL blogs to get you started on ideas:
Blogging can be a great way to network with fellow ESL professionals! Find interesting local content, appeal to your community and use great images to increase engagement, gain new followers, or gather more admissions for your school! Your blog content can appear on any number of platforms - ESL websites for teachers, ESL websites for students, and even ESL websites for beginners or advanced readers.
---
Are you interested in starting your own ESL school? Or teaching English online? You know what would really make your ESL school stand out among the rest?
A smart, flexible ESL teaching platform that is easy to use for both teachers and students. Your Agora uses collaborated material from teachers all over the world and a set of tools to smooth the process of assigning and grading homework, setting deadlines and customizing lesson plans.
Why not check it out now? Your school will thank you!