The greatest threats to your ESL school's viability may be harder to spot than you think. That's because they're hiding in plain sight.
Swelling class sizes, unmet student needs, disengaged management and out-of-pocket teacher spending are signs that your school could be in trouble. Like rainwater on rock, they gradually erode your foundations.
Fortunately, you can learn how to recognize and prevent these obstacles from damaging your school's performance. Today, we'll break down five common challenges that can harm your school:
Large class sizes

Mixed-age and mixed-ability classes

Undiagnosed student learning disabilities

Insufficient funding for classroom supplies and equipment

Lack of administrative support
We'll also show you what to expect if you don't respond to these challenges properly. Finally, we'll show you how to prevent them from escalating into crippling problems.
If you're ready to tackle these challenges head-on, then keep reading.
1. Large Class Sizes
Despite what Malcolm Gladwell has to say on the subject, class size matters, particularly for young and vulnerable students.
Research reveals that students in class sizes of 13 to 17 score higher on math and reading standardized tests than students in standard-sized classes of 22 to 25. Students from lower socioeconomic backgrounds made the most marked academic gains.
The positive effects endure in the long-term. Students placed in smaller classes in earlier grades show better outcomes throughout the course of their lives in everything from graduation to homeownership.
What makes smaller classes better? Follow-up research showed that teachers with fewer students are better at reteaching difficult material, monitoring student progress and building positive relationships with their pupils. Simply put, smaller classes make for more effective teachers.
Given these advantages, why would any school principal tolerate large classes? The answer lies in two factors. The first is financial. Cutting teaching positions is a quick way to save a lot of money. The other is recruitment-related. If you don't sustain a year-long recruitment process, teaching positions can sit vacant for months, forcing you to consolidate classes. In either case, the long-term costs obliterate any short-term benefits.
What Happens If You Ignore It
If class sizes at your school begin to swell, you can expect to experience noticeable decreases in student performance, particularly from at-risk students. You can also expect more classroom management problems as the teacher's attention gets spread thinner.
You'll probably also see a lack of growth, or even regression, among students who are more reluctant to speak up in class. This creates an environment in which more advanced or more gregarious students begin to dominate the class at the expense of their more timid classmates.
Student engagement and risk-taking are essential for growth in the ESL classroom. Larger class sizes put a damper on both those behaviors and threaten to tarnish your school's reputation as an educational leader.
How To Fix It
Start by assessing your situation. The American Council on the Teaching of Foreign Languages recommends limiting class sizes to 15 students or fewer. If your class sizes exceed this recommendation, it's a good idea to re-evaluate. You may be tempted to make modest class size reduction, but this approach is ineffective. Research shows that reducing class sizes by seven to 10 students yields greater gains in student outcomes, particularly for younger learners.
2. Mixed-ability and Mixed-age Classes
Classes that include students of varying ages and abilities can create a dynamic learning community. But these classes also pose distinct challenges that can derail meaningful learning.
What Happens If You Ignore It
Advanced students in heterogeneous classes can quickly become bored or frustrated, which makes them more likely to disengage or act out. At the same time, struggling students can feel pressured to catch up. And, although a small amount of anxiety can motivate students to try their best, too much anxiety cripples attention, information processing and knowledge retrieval. Teachers often struggle to find lesson plans that are developmentally appropriate for a wide range of student abilities or ages. When taken all together, these challenges can derail an otherwise productive class.
How To Fix It
Should you scuttle your mixed-age or mixed-ability classes? Not necessarily. But, you should consider whether you're willing to invest in the resources and strategies necessary to make them effective.
Differentiated instruction, or instruction that is tailored to each student's individual needs and learning styles, is a potent tool for the mixed classroom. Differentiation is a difficult skill to master, and it takes time to integrate into your school. But, if your school's class sizes are small, then you already have a good head start. It's easier for teachers to differentiate instruction for a smaller group of students.
If your school teaches adults, then your teachers can invite them to help create a learning environment that meets everyone's needs and goals. Coach your teachers on how to initiate the conversation, and guide them as conduct a needs analysis to determine what student needs to be successful. Finally, be sure to offer the necessary training and professional development they need to become skilled teachers. Mixed classes are difficult to teach, but with the right resources and support, educators can learn to thrive in this challenging environment.
3. Teaching Students with Learning Disabilities
Learning disabilities — which are sometimes also called learning differences — are conditions that impede a student's academic growth. It's estimated that 15 percent of Americans have a learning disability, making them a common challenge for classroom teachers. They're not insurmountable barriers to learning, though, as long as students receive a timely diagnosis and adequate modifications.
There are a number of conditions that, if left unaddressed, can impair a student's ability to master a second language. These include:
Dyslexia, characterized by difficulty matching letters with the sounds they make. Students with this condition have difficulty reading and spelling. It's estimated this learning disability alone affects 20 percent of the population and makes up 80 to 90 percent of all individuals with learning disabilities.

Language Processing Disorder, which impairs how the brain interprets and processes spoken language. Not to be confused with a hearing problem, this is a neurological condition in which students can't differentiate between the nuanced sounds in speech, even when they hear them clearly.

Dysgraphia, which affects fine motor skills and handwriting. Students with this condition often have difficulty writing and thinking at the same time.
Identifying and treating students with learning disabilities is uniquely challenging for ESL teachers. First, it can be difficult to determine if a student who is struggling to read and write is suffering from a learning disability or if they're simply having difficulty mastering a second language. Second, many ESL teachers work in schools that lack dedicated resources for diagnosing and helping students with learning disabilities. Finally, ESL teachers who work internationally may work in a country where learning disabilities aren't formally recognized or properly addressed. In these environments, learning disabilities are often stigmatized, making them even more challenging to identify and remediate.
What Happens If You Ignore It
Undiagnosed and untreated learning disabilities can create a host of difficulties for teachers and students alike. Students who don't reach their learning goals make for unhappy clients. More importantly, they fail to reach their full potential and risk missing out on critical opportunities. In addition to being at higher risk for detention and absenteeism while in school, students with learning and attention disorders are three times more likely to drop out of school, the National Center for Learning Disabilities reports. Meanwhile, teachers who can't effectively help their students can eventually lose hope and become demoralized.
How To Fix It
You can't remedy what you can't name. The first step, then, is investing in methods for identifying struggling learners and determining if they have a learning disability. Classroom teachers can use the response to intervention process to spot students who are lagging behind. However, diagnosing a learning disability often requires a battery of tests that must be administered by a trained professional. Students can also undergo a full evaluation, which could include a medical exam and an analysis of the student's family history, to identify if they suffer from a learning disability. In either case, a trained specialist should make the diagnosis. It should never be the classroom teacher's responsibility.
Next, provide your ESL teachers with paid training that will help them better understand and accommodate students with diverse learning needs. Educate your teachers on how students with various learning disabilities think or behave differently and why. Most importantly, be sure to equip them with research-based strategies for adapting lesson plans for these students. Your Agora makes this easy by giving teachers access to lesson plans that they can easily modify and share with specific pupils.
Finally, support your teachers as they broach this potentially confrontational topic with students and parents. Let them know that you have their back. If learning disabilities are stigmatized in the student's culture, don't be surprised if the student or their parents react defensively to attempts to modify the curriculum for them. With preparation, patience and tact, you can successfully defuse the situation and help pave the way for a rewarding student experience.
4. Out-Of-Pocket Classroom Spending
According to one survey, U.S. teachers spend an average of $468 of their own money on classroom supplies and equipment. Of those, 77 percent said they spent at least $200, and some spent as much as $5,000. If your school is anything like a typical public school in America, you could be hemorrhaging cash in the form of unreported supply purchases.
What Happens If You Ignore It
Teacher out-of-pocket spending is a problem for several reasons. The first is that it's a likely indicator that teachers don't have the resources they need to do their jobs. If left unchecked, this will take a toll on student outcomes and teacher morale.
The second problem is that these hidden expenses shield you from the true cost of doing business. You may think your school operates just fine on a lean budget, but that might only be because your teachers are shelling out $500 a year on paper and pencils.
The third problem is that it's not sustainable or fair for teachers. The average annual salary for K-12 teachers is $49,000, but most of those teachers work 12 to 16 hours a day. When you average their salary out over a week, these educators earn only $11 to $15 per hour.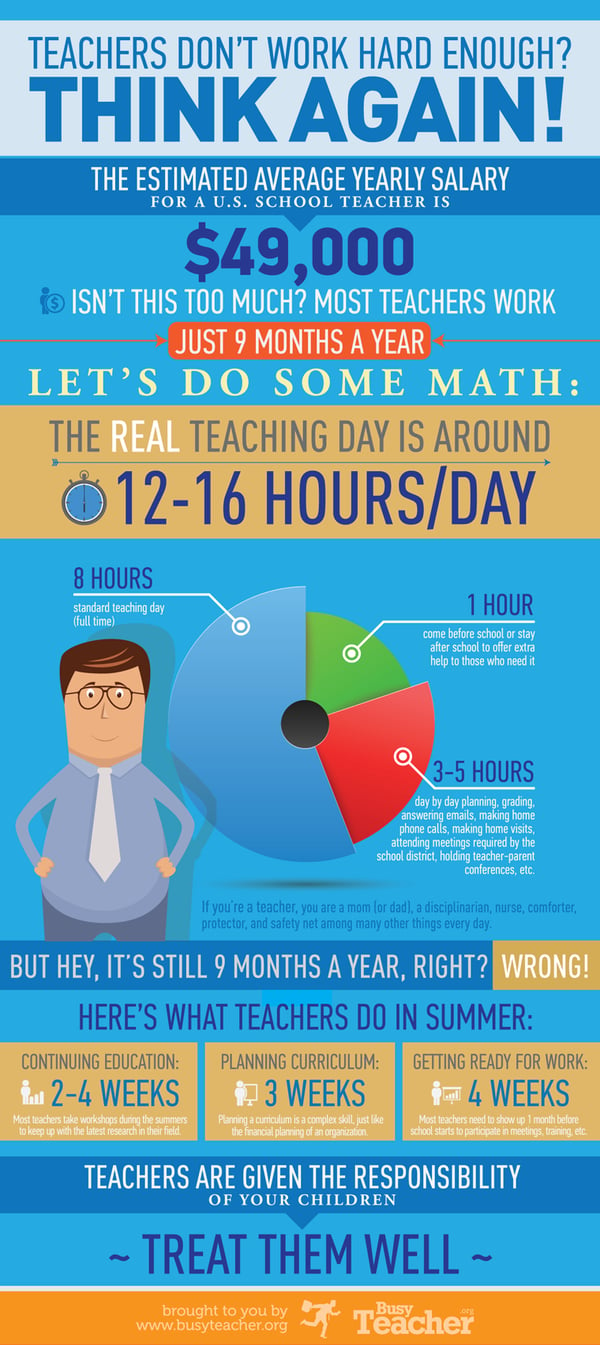 How To Fix It
Start by assessing how much it really costs to keep your school running. Survey your teachers to identify if they spend their own money on supplies and, if so, how much. You'll also want to gather information on what supplies they buy.
Teachers may be reluctant to answer honestly if they're afraid they will be punished or judged for their answers, so be sure the survey is confidential. You can use an online form builder like JotForm to create a survey that teachers can submit anonymously.
After you've gathered the survey data, identify the areas of the greatest need and determine how much your teachers spend on these line items annually. Assess which supplies are essential and which are not. Finally, adjust your materials and equipment budgets accordingly.
5. Lack of Administrative Support
How often do you compliment teachers for a job well-done? Do you go to bat for them when a student or parent disagrees with one of their disciplinary decisions? Do you invite them to share their struggles, questions and accomplishments with you.
These behaviors help develop trust and loyalty with your teachers. Be careful not to relegate them to second-priority status. Here's why.
What Happens If You Ignore It
If teachers think you are aloof, disengaged or unfair, they'll look for jobs elsewhere. A survey found that new teachers' perceptions of their principal was the single most important factor in their retention. Beginning teachers who believed their principals worked well with all teaching staff were more likely to stay at their school than those who didn't. Studies show that 40 to 50 percent of new teachers abandon the profession in the first five years. We can safely assume, then, that many of these erstwhile teachers were driven out by poor management.
How to Fix It
But, what does supportive administration look like? A survey revealed teachers value these five principal behaviors the most:
Respecting teachers as professionals

Supporting teachers in student discipline

Maintaining an open-door policy

Exhibiting honesty, fairness and trustworthiness

Supporting teachers with parents
The survey also asked principals what they thought their teachers wanted most from them. The results revealed significant discrepancies. Principals thought encouraging teacher practice and professional development was No. 1 on teachers' lists, followed by maintaining high standards for all teaching staff. Principals downplayed the importance assisting with discipline issues and parent interactions, but these were top priorities for teachers. The lesson here: Make sure you're responding to teachers' true needs, not just what you think their needs are.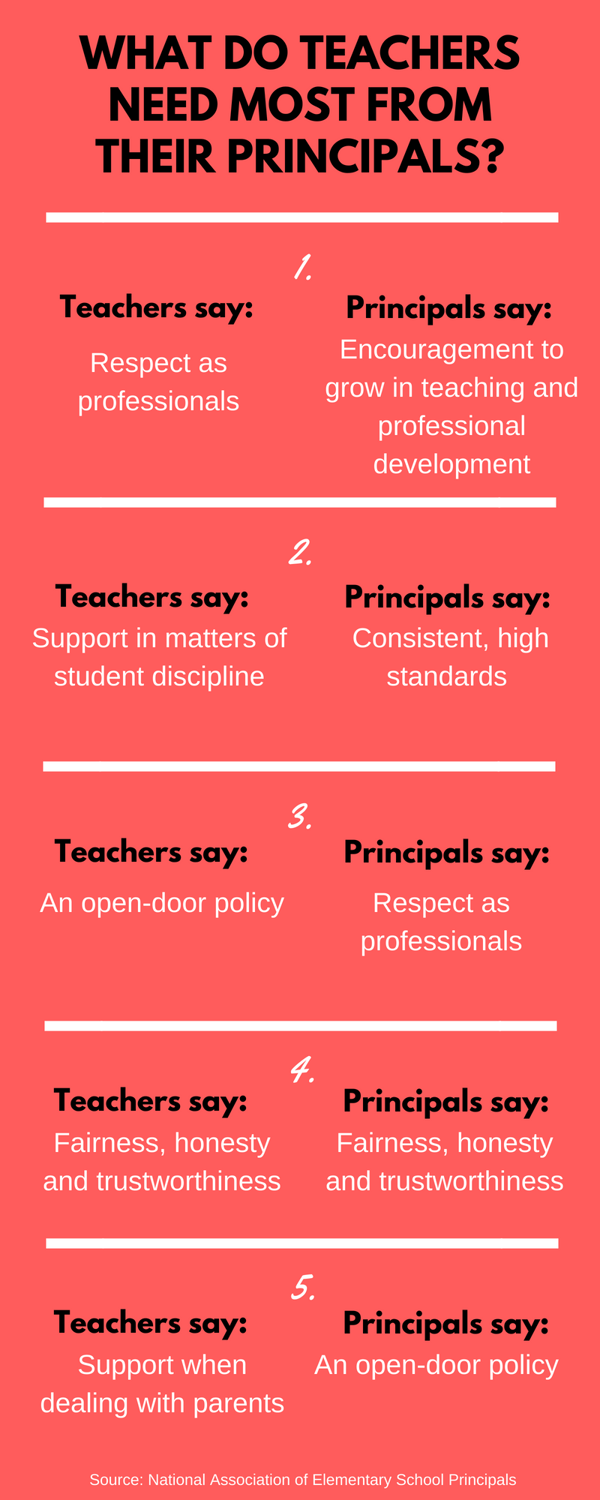 Finally, the survey also showed that supportive leadership looks different for new teachers than it does for more experienced ones. Beginning educators crave moral and emotional support in their first years of teaching. They want to know what they're doing right as well as what they're doing wrong. Experienced educators, by contrast, place a higher premium on being respected as competent professionals. They like to be consulted on important policy changes and allowed more decision-making opportunities when appropriate.
Happy teachers make for committed and highly productive teachers. Do your educators and yourself a favor by making supportive leadership a top priority.
---
Between analyzing standardized test scores and evaluating teacher performance, you have more than enough to do. Let Your Agora help. With it, you can easily and quickly access the performance indicators you need to keep your school on track. Plus, it allows your educators to access free ESL lesson plans that they can customize and share. Spend less time crunching numbers and more time helping your teachers succeed in the classroom.