Wondering how to start your own online English teaching business? As with any brick and mortar company, online business planning can be incredibly challenging and time consuming. In particular, the online ESL market is growing daily, and it can be hard to keep track of the latest trends and programs in the ESL business world. These reasons, and many more, make creating an online ESL teaching business daunting. To help you navigate the challenging world of business, here are five easy steps you can take to create your dream teaching company.
1. Create a Business Plan
What are the steps you need to take to create your dream business? Whether you are just starting out, or you are several steps into the process of creating your online teaching business, it is important to be thorough during your ESL business planning process.
Here are some questions to ask yourself when creating your online ESL teaching business plan:
What is your purpose?

Are you the teacher, the employer, or both?

Who is your target demographic?
Find your purpose for your business. This is much more than writing a mission statement for your website. If you have not written out clear goals for your business, then you are creating potential future problems. Beside taking advantage of rapid ESL market growth, what drew you to the business of ESL?
Consider if you want to continue teaching. Maybe you were drawn to the business because you are a teacher yourself. If you are currently the primary teacher in your company, consider if you want to remain a teacher or move on to administration. The ESL market is currently expanding, and is set to grow even more in the next ten years. Therefore, if you have a sustainable business model, one day soon you might employ teachers rather than teaching yourself. Which do you desire?
Decide on what demographic your marketing will target. As you begin your ESL business it will be beneficial for you to research and target a specific group of students. Do you want to teach kids or adults? Are you aiming to teach only to one region so you can easily set your hours and rates? One of the biggest mistakes a small business can make is not finding a niche, and teaching is no different.
Remember there is no such thing as being over prepared. Do not let your hard work go to waste by avoiding planning for the best and worst case scenarios. If you answer the above questions, then you will be on your way to creating an effective business plan and model.
2. Focus on Professional Development for Your English Teachers
As an owner of an ESL online business, your role will not only be to facilitate your personal lifelong learning, but to ensure whatever employees you have are also going through continuous education.
This is vital because your greatest assets are your teachers. Cultivating your teacher's growth as a team and as individuals will help you reach your targets for enrollment which will, in turn, allow your business to grow in other ways.
The top two ways to help your english teachers gain new skills and become better at their jobs is to:
Provide continuous teacher training

Foster teacher collaboration

Encourage your teachers to lead workshops and seminars
Provide continuous teacher training. This training for ESL teachers can come in many forms. You can provide in-house training programs or send your teachers to conferences. The TESOL International Association has annual conferences globally with various speakers and seminars on numerous topics. They also provide virtual courses and seminars if you prefer to stay exclusively remote.
Fostering teacher collaboration is made easy through online platforms like Your Agora. Our community of ESL teachers all over the world contribute their expertise to the Your Agora platform. Teachers build on the work and experience of others and have created a vast library of knowledge that may be accessed with a single click.
Encourage your teachers to lead workshops and seminars. Teachers can take their continuous education even further by leading their own workshops at conferences or online. This will give your teachers numerous opportunity to network with other ESL teachers and spread the good news about your successful ESL company. Giving workshops will further encourage teacher collaboration by involving a classroom full of similar professionals.
3. Cut Costs and Save Time for Your English Teaching Business
Thanks to modern technology, there are many ways for ESL teachers and business owners to simplify their school structure and platforms. Here at Your Agora, we have the perfect combination of every ESL service out there, and it is all free for teachers and students. Here are ways Your Agora can cut down your business costs and save you time:
Automatize Grading to Focus on What Is Important:
Your Agora saves time for teachers and students. Homework, once assigned and completed, is graded automatically. Teachers receive prompt notifications upon an attempt or completion of each assignment. Students are empowered by instantaneous feedback on their performance. Teachers save time on grading, spending it on enhancing more important aspects of the course.
For more detailed feedback, teachers have the option of leaving personalized comments on assignments. This feature creates an opportunity for communication during every step of the learning process. Your Agora provides efficiency, auto-organization, and immediate overview of the students' progress, like no other software.
SAVE ON COMMISSION FOR AN ONLINE ENGLISH TEACHING PLATFORM
Many expensive ESL teaching services, providing no tools or support network for teaching, may be found all over the internet. Your Agora, a quality platform tailored to every need of teachers and students, is completely free. We take pride in the scope of the tools, user-friendliness, and customizability of the service we provide.
Our free online ESL teaching platform removes the burden of adding an extra cost to your fee, giving you ultimate freedom over your prices.
Provide a Flexible Learning Experience for a Variety of ESL Students
Many students hesitate to venture into the language-learning experience due to the time commitment. Your Agora works around the busy lifestyle of the modern student. Each aspect of the course can be tailored to a specific timeline, from the length of lessons to assignment deadlines. Schedules can be altered to suit all availabilities.
Whether you are teaching English abroad, looking to optimize your online teaching business, or searching for reliable ESL lesson plans, Your Agora will cut your planning time significantly. Our platform provides a flexible, blended learning opportunity that both you and the students can experience from the comfort of home.
4. Establish a Web Presence
As an online business, an online presence and clear branding are often times the key to success, because, as an online ESL business owner, your web presence is your storefront.
If the internet is the town or region for online business, then social media marketing is similar to placing an ad in the newspaper, but it is a bit more complex. In order to grow your online business you should have all bases covered in this arena, or at the least be very good at a few platforms where you can find your brand community.
When thinking about growing an online teaching business, consider which platforms may be more valuable to you and accessible to your audience.
The best social media marketing tools for online ESL teachers are:
YouTube Channel with quality content

LinkedIn profile

A website with a blog

Facebook
Not only are these tools great for ESL teacher networking, but they provide additional services to your students which will help you sell more classes, especially if all of your platforms are interlinked. Your goal in diversifying your web presence is to attract students to your pages, clarify your services, and create a natural contact link between yourself and potential students.
When first approaching online ESL market strategies, remember that all the sites you choose to utilize should connect to one another. This will help all of your sites get more hits, and can lead your viewers and students to more quality information you have provided for them. Great online marketing should not just bring students to the classroom, but should provide a service that is aesthetically pleasing and intellectually stimulating for your potential clients.
5. Build an Online English Language Learning Course
Building an online course is the ultimate way to generate more income from your online ESL teaching business. This process requires a lot of work upfront, but if you work hard during the course creation then it becomes the easiest way to generate passive income for your business. Online courses have become even simpler to build with intuitive course building programs like we have created here at Your Agora.
Since an online course itself is not a business, it is important for you to reach these goals before course creation: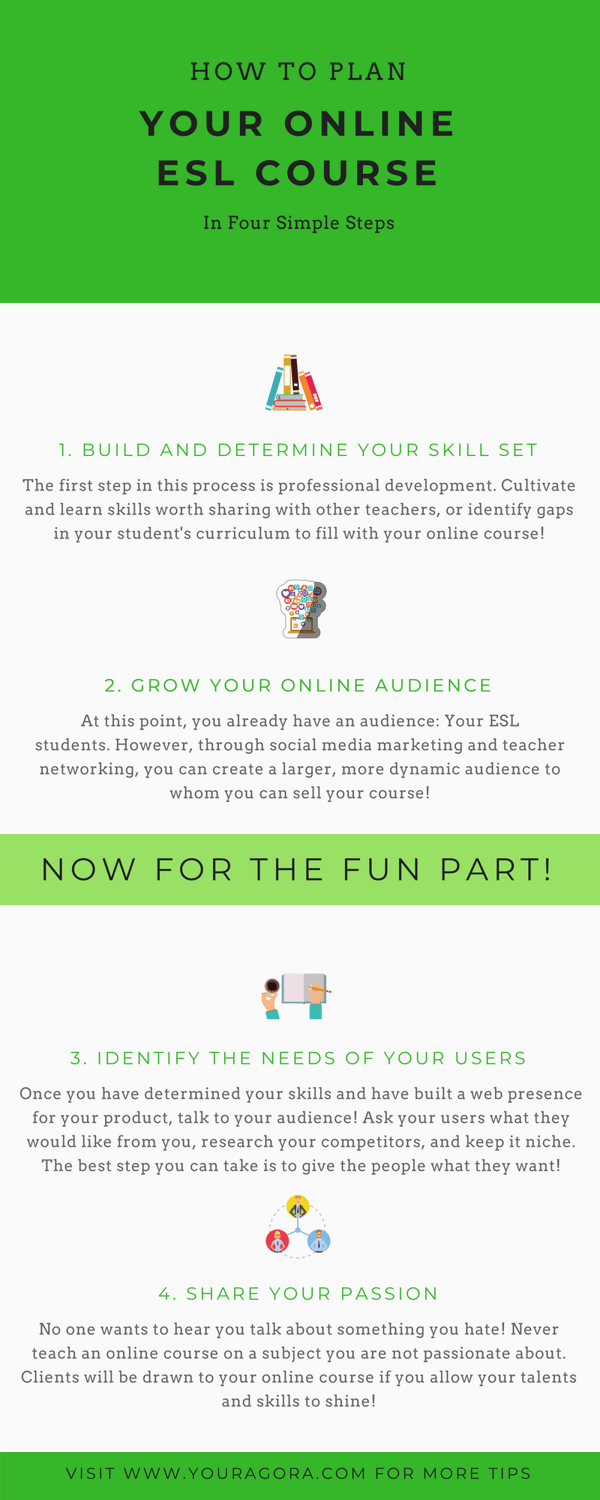 Maybe as you have developed your social media brand you have gained traction in the global ESL teacher community as well as growing your client base. If this is the case, consider creating a course for other teachers, which you may have gained experience in through your professional development.
Course creation is step five in how to optimize your teaching business because without your audience, well-established online platforms, and professionally developed skills, you will have no one to sell your course too! The online course industry is set to continue to grow exponentially over the next decade, so do not rush into this process.
Potentially, when identifying the needs of your audience, you will find gaps in the curriculum you can fill for your students with your online course. Or you may see a need for lessons on how to be a good online English teacher. Gaps such as these can be found through your competition research, or by simply asking your students or other followers what they would like to see. Use an interactive platform so that you can approach your audience and meet their needs better than your competitors.
---
Your Agora is a platform for ESL teachers and students to connect and collaborate online. It enables a vast network of ESL teachers to create and share content on a single platform, without the fuss of separate tools for assignment, curriculum planning, or grading. With Your Agora, teachers will never run out of ideas, as thousands of certified colleagues all over the world share lessons and assignments. Every day, teachers write to us, telling us how Your Agora has become a vital tool in their workflow and online ESL teaching business, and it can be for yours too! Don't stress over how to start a teaching business - use our resources to help make it happen.